On Which Aspect Should You Focus While Choosing HTML Website Templates?
Choosing the correct HTML website template is a critical decision in the ever-changing world of web development. The design of your website is important not just for obtaining and maintaining visitors, but also for its functioning and the whole user experience. With so many digital products available, each appealing to a different set of demands and sectors, selecting the most suitable option is difficult. In this post, we will go through the essential factors to keep in mind while selecting
HTML website templates
.
How to Create a Website Using HTML Templates?
Niche and purpose It is vital to determine the niche and purpose of the site. Are you building an eCommerce site, a corporate online project, a blog, or a portfolio? It is crucial because the look and functionality of your website should match the industry.
Design and aesthetics In addition to this, it is essential to align your design with your brand and content. When you are choosing the best HTML templates, pay attention to their layouts, typography, color schemes, and other elements.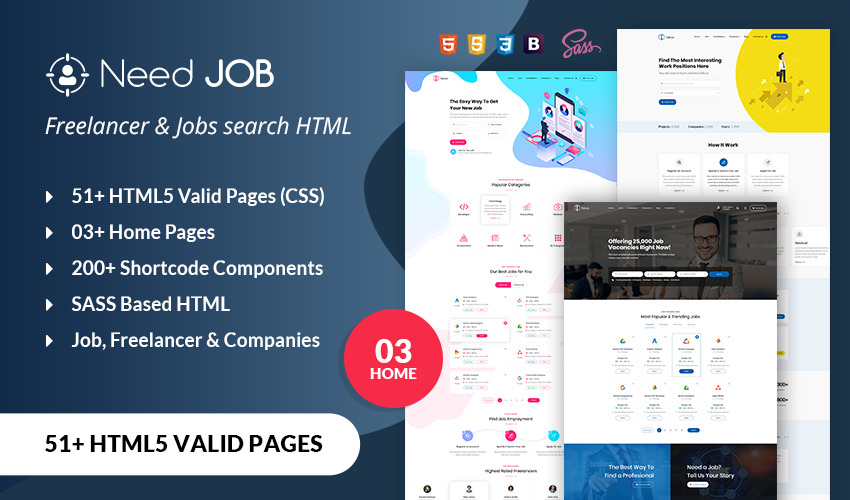 It is a multi-functional and remarkable example of HTML website templates for job boards. It is packed with all the necessary features that allow employers to get in touch with job seekers. Furthermore, it provides an easy and convenient way to sign up, log in, post jobs, share job details, and manage profiles. In general, you will be ready to work with 51+ HTML5 valid pages, 3+ index pages, and 300+ shortcode components. Main Features:
Google Maps
Google fonts
Job listing filter menus
Sticky menu
Active and hover options
Buy Now
If you require a visually attractive restaurant or food-related template, it is your perfect match. It offers an excellent browsing experience for customers across various devices, thanks to a fully-responsive design. You can take advantage of pre-designed sections and components tailored to showcase your menu, services, promotions, and other aspects. The package includes 32+ HTML5 valid pages and 200+ shortcode components. Main Features:
Recipe, menu, and blog pages
Chef listing and detail page
Product Gallery
Contact page
Super clear and clean layout
Buy Now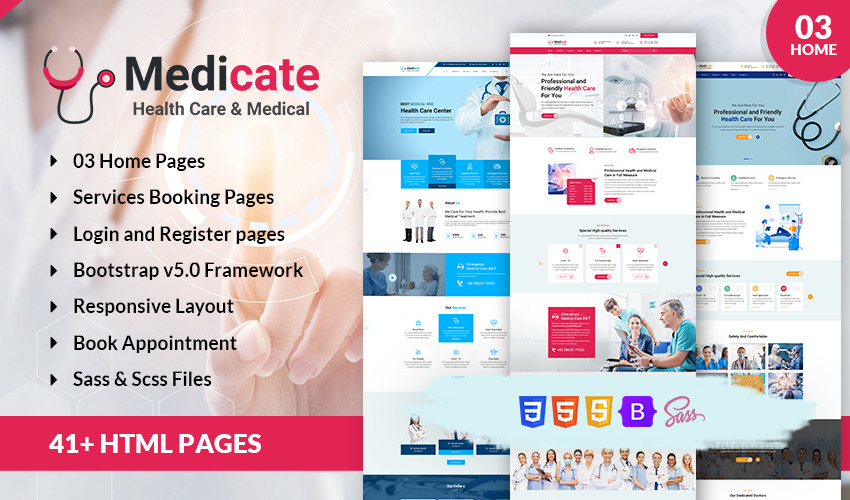 A dynamic and engaging ready-made solution that will be your trustworthy assistant in showcasing medical services. It has all the essential features, including a patient information form, appointment date, time selection, and confirmation messaging. Moreover, you can work with more advanced functionalities like a dynamic search of filtering options. It also has a calendar view that enables people to check if there are appointments available. Main Features:
41+ HTML5 valid pages
Three homepage styles
Smooth animation effects
Contact form
Google Fonts
Buy Now
A powerful and unforgettable template suitable for dating websites and online communities. It has a highly customizable nature that makes it possible to craft an exclusive and out-of-the-ordinary website. Additionally, you will get a wide range of features that allow people to connect with each other. These include profile creation, messaging, and search functionality. You can also use a lot of pre-built pages like a sign-up page, profile page, and many others. Main Features:
UI components (like buttons, forms, and icons)
Fully-responsive design
Couple calculator
Members listing page
Contact form
Fully-responsive design
Another feature to concentrate on is a fully-responsive design. Thanks to it, your visitors will be ready to access the site without any difficulties no matter what device they use.
Personalization options and extra features
Some HTML website templates have more personalization options and features than other variants. For example, you can get different types of colors, fonts, layouts, menus, forms, sliders, and other elements. If you need more options to customize the site, pay more attention to the collection of features.
SEO-friendliness
If you want the site to rank higher in search engine results, do not forget about choosing SEO-friendly and premium HTML templates. In this case, they will have a proper HTML structure with meta tags and clean URLs.
Updates and support
Finally, you should check if the desired HTML website template comes with high-quality and professional support and regular updates. If you opt for an active developer, you will always get help in case you encounter some issues.
Buy Now
A Few Words in Conclusion
The selection of an HTML website templates free and premium is an important phase in the web-building process. It has the potential to make or break your Internet profile. So, take your time, assess your requirements, investigate your possibilities, and make a thoughtful selection. Do not forget to visit our
TemplateMonster Author Store
to get familiar with a bigger number of high-quality ready-made solutions. Our exclusive promo code "
webstrot7
" gives 7% OFF website templates on TemplateMonster. Thanks for reading!